Chapter 13 Bankruptcy – 4 Things To Know
Click Here For Your Free Bankruptcy Evaluation
---
In A Nutshell
(1) Monthly Payment Plan
(2) Length: 3 – 5 Years
(3) Keep All Of Your Assets
(4) Discharge Debts
---
In More Detail
(1) Monthly Payment Plan
Chapter 13 Bankruptcy requires you to enter into a payment plan. In most bankruptcies, this monthly payment will become the only debt payment you make each month. Certain secured debts have to be paid through your monthly payment, and other debts, depending on your situation, may not be paid anything. It is important to determine what debts have to be paid, what debts do not have to be paid, and ultimately what your monthly payment will be. It is vital to have a proper analysis of your situation to accurately determine this monthly payment. Let me help.

---
Your Home – STOP Foreclosure. Some Bankruptcy Districts vary on whether or not your home's mortgage has to be paid through your plan payment. Some Districts require this while other Districts allow you to continue to pay your mortgage directly to your mortgage company if you have not been behind on mortgage payments in the recent past. If you are behind on your mortgage, then your monthly mortgage payments will certainly have to be paid through your payment plan. In addition, your bankruptcy payment will include the amount you are behind on your mortgage. By the end your bankruptcy all regular monthly mortgage payments will have been made and all arrearage owed will have been paid. You will be current on your mortgage and will resume paying your mortgage payments directly to the mortgage company.

---
Your Car And Other Collateral For Secured Debts – STOP Repossession. A car is the most common secured debt paid through an individual's bankruptcy payment. If you are behind on your car payments and fear the creditor could repossess at any moment, then filing a Chapter 13 is a way to protect this from occurring. Sometimes individuals have other secured debts where they financed items such as furniture, appliances, electronics, etc. Your car loan and other secured debts will be paid in full (in most situations) through your monthly bankruptcy payment. At the end of your bankruptcy you will no longer owe any debt on these items. Keep in mind that you also have the option to not pay for the items through the bankruptcy payment. You can surrender the item, meaning give it to the creditor, and wipe away your liability for the debt.

---
Credit Cards, Medical Bills, Personal Loans, and Other Unsecured Debt. Your monthly bankruptcy payment will also include your unsecured debt. In many bankruptcy cases individuals do not pay anything towards these debts. In other cases the individual may have to pay a percentage of what is owed. Determining whether anything has to be paid toward your unsecured debts depends on your entire situation. At the end of your bankruptcy payments any amount remaining owed on your unsecured debts will be wiped away.

---
Priority Debt. Certain debts are defined by the law to be "priority" meaning they are not discharged through your bankruptcy. In most Chapter 13 bankruptcy cases, priority debts will have to be paid through the monthly bankruptcy payment. The most common example of priority debts are taxes that are recently incurred. The good news is that these debts will be paid in full through the bankruptcy payment.

---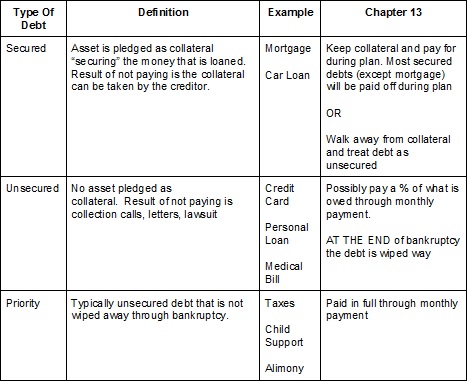 ---
(2) Length: 3 – 5 Years
A Chapter 13 Bankruptcy is required to last a minimum of 3 years and a maximum of 5 years. In my experience most Chapter 13s last for 5 years. In most situations the same amount of debt has to be paid back whether the Chapter 13 lasts 3, 4, or 5 years. Lengthening the bankruptcy to 5 years allows the individual to have a lower payment than he would if the case were 3 years.
---
For Example. You owe $10,000 on a car that will be paid for through the bankruptcy and you plan to pay the debt at the Till interest rate (discussed in a later post). The possible payments toward the car would be:
| | | | |
| --- | --- | --- | --- |
| Length Of Plan | Amount Owed | Interest Rate (Till as of 8/2019) | Monthly Bankruptcy Payment |
| 3 Year Plan | $10,000 | 7.5% | $311.06 |
| 4 Year Plan | $10,000 | 7.5% | $241.79 |
| 5 Year Plan | $10,000 | 7.5% | $200.38 |
---
Some individuals do not have the choice of making their bankruptcy last less than 5 years. If an individual is "above median", then the individual's bankruptcy is required to last the full 5 years. I will define "above median" in more detail in a later post. For now just understand that if you make above a certain amount of income, then you may be forced to be in a Chapter 13 for 5 years.

---
(3) Keep All Of Your Assets
In a Chapter 13 Bankruptcy you are allowed to claim a certain value of your property as exempt. If you cannot exempt all of the equity you have in an asset, then the result will be that you have to pay more to your unsecured creditors through your monthly plan payment. You will NOT lose the asset. This is a big reason why a proper analysis of your situation is necessary before entering into a Chapter 13 bankruptcy.

---
(4) Discharge Debts
After all of your plan payments have been made, you will receive a discharge. A discharge is the reason you file the bankruptcy…it is the light at the end of your debt tunnel.

---
Any amount left owing on your unsecured debt is wiped away. You no longer owe anymore on any of these debts, and the unsecured creditors are forever barred from attempting to collect from you.

---
The status of your secured debt at the conclusion of your bankruptcy may depend on what you chose to do with the asset upon entering or during the bankruptcy and upon the way the debt was treated in your bankruptcy. If you surrendered the asset used as collateral (i.e. gave your car back to the financing institution), then the debt is wiped away like an unsecured debt. If you chose to keep the asset, then you will either have paid off the secured debt through your bankruptcy payment (i.e. "short term" debt) or have made all of the payments coming due on the secured debt during the bankruptcy and will resume making payments directly to the creditor after the bankruptcy (i.e. "long term" debt).

---